Iridium GO! exec™ Mobile Satellite Internet WI-FI Hotspot
Description
The Small, But Mighty Iridium GO! exec™!
The Iridium GO! exec™ is a mobile satellite internet device revolutionizing the satellite industry. The GO! exec gives your mobile phone access to the world's furthest reaching satellite network, Iridium Certus. This compact, rugged and portable Wi-Fi satellite transceiver works with the Iridium GO! app to allow voice and text from iPhones and Android smartphones anywhere on earth. Stay connected and in touch wherever you are, whenever you need, with the devices you already rely on everyday.
Connect your smartphone with the Iridium GO! exec ANYWHERE! Compatible with with Apple and Android phones. You have the ability to use apps optimized for voice calling, SMS, email, weather monitoring, and more. Simultaneously connect 4 devices at once! (2 simultaneous voice lines)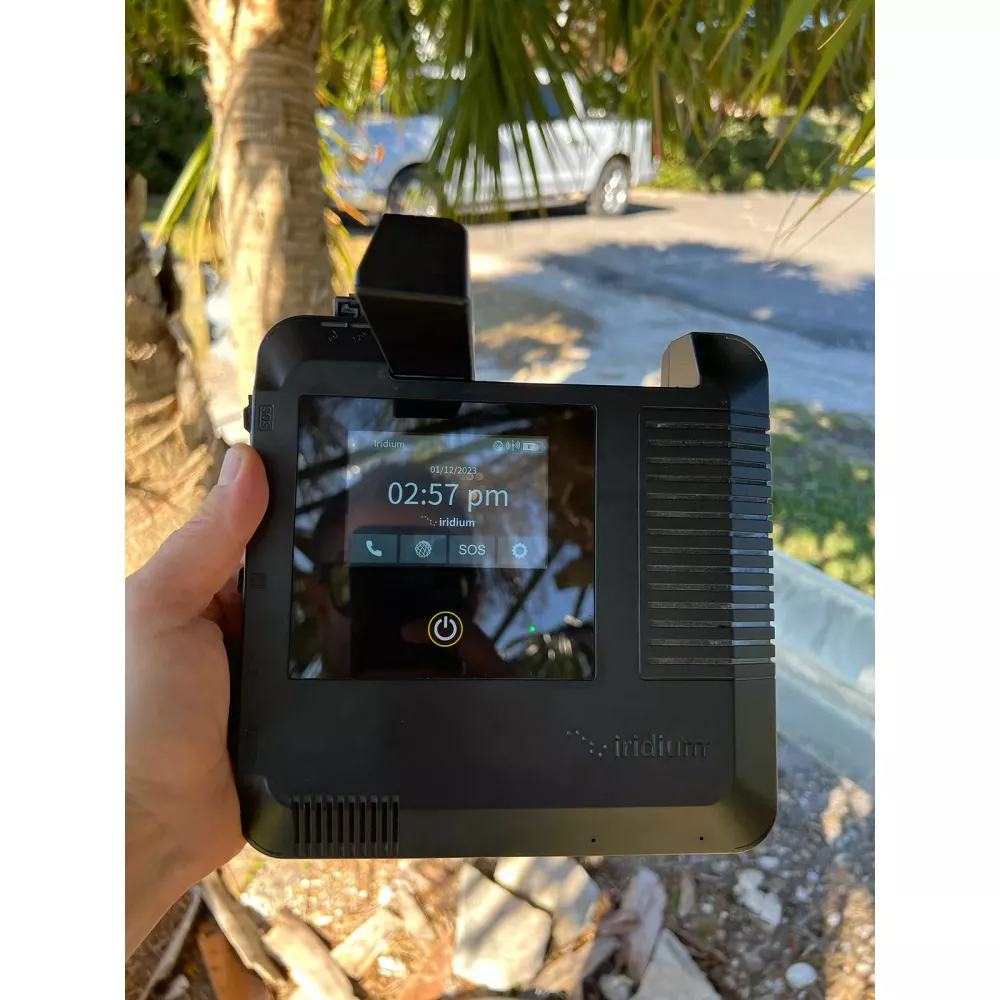 Popular Apps Capatible with the Iridium GO! exec™:
Browsers such as Opera & Firefox
Chat Apps including Telegram, WhatsApp, Line, Singal & Viber
Send & Receive Emails via Outlook, Gmail, & Yahoo!
Post on Twitter
Access to USeful Finance Apps with Venmo & Zelle
Even Connection to Home Automation Apps like Google Home
Basic Features Also Include:
Check Iridium GO! exec battery life
Check Iridium GO! exec satellite signal connection
Send quick GPS or check-in message
Configure settings
Initiate voice calls
Set-up Wi-Fi data calls
Activate Emergency SOS
Iridium Mail & Web Connectivity:
Send/receive emails
Retrieve emails from external accounts
View web pages
Posting updates to your social networks. Like posting pictures on your Facebook wall
Access weather forecast
Compress and send photos
---
Uncovering the World's Smallest Satellite Internet Hotspot: Iridium GO! exec™
Flip up the antenna and instantly connect to satellites in outer space, even between valleys & mountains!
Common USB-C Device Charging / Ethernet Port / SIM Card Slot
SOS Button for Real SOS Services
Can Connect to External Antennas & External Headsets
Works on the move with boats, planes, trucks, etc.
Speeds - 88 kbps Down, 22 kbps Up

THE SMALLEST GLOBAL HOTSPOT IN THE WORLD!
---
Iridium GO! exec FAQ
Q Is the DataHub required for tracking with the new Iridium GO! exec?
A Yes, the Iridium GO! exec does not have any tracking features on its own.
Q Will SIM cards for old type Iridium GO work in the Iridium GO! exec?
A The Iridium GO! exec uses a different type of SIM card, made for the Iridium GO! exec. It comes with a Sim card. The good thing is that is can be activated and deactivated, so you only need the one.
Q What are the dimensions and weight of the Iridium GO! exec
A 200mm x 200mm x 30mm. It weighs 1.2KG
Q What are the charging options for the GO! exec? What type plug does the charge input use and at what voltage/amps?
A The Iridium GO! exec is powered from a USB-C connector, and comes with a USB-C, 5 Volt, 3 amp power adaptor. It doesn't use that much power for transmit, though. It is around 15 Watts on transmit/receive and 5 watts standby. It can be powered from a 2 amp USB outlet also, if you already have one on the boat.
Q Does the Iridium GO! exec use the same battery as the regular GO!?
A The Iridium GO! exec has a built-in battery, different to the Iridium GO. It is not user replaceable. Needs to be sent to Iridium for replacement.
Q Is the external antenna offered for the Exec the same as that previously offered for the regular GO!? I already have the old antenna installed.
A The external antenna is spec'd for Certus 100, it has different internals, but looks the same as the Iridium GO!'s. The cable is 5 Meters long, so we recommend mounting the Iridium GO! exec aft in the boat, closer to the push pit, if that's where the external antenna is mounted. We don't recommend extending beyond 5 meters with the LMR400 cable, as this is the length specified by Iridium.
Q Am I correct in understanding that the GO! exec includes a speakerphone in the unit such that a Wi-Fi connected device is no longer required to make phone calls? Can calls still be made with an external device?
A Yes, it has a speaker, and can be used on its own for calls, or with the App.
Q Does the Exec have an Ethernet port to connect an external router?
A Yes, it has an Ethernet port you can connect to a computer or router.
Q Are GPS tracking messages sent over the GO! exec from a data hub billed as MB or is this data sent as free messages?
A GPS tracking is done by the DataHub connected to the Iridium GO! exec. It talks to the Iridium GO! exec and brings up a connection, sends the tiny tracking data packets, then turns off the connection. Tracking is set to hourly by default on the DataHub, but you can change it. The data is counted in your plan for tracking. With the GO! exec 50 plan for example at $159.95 per month having 50MB data. One typical weather download is 200kb, so 10 weather downloads is 2MB. When considering they take seconds rather than 20 minutes with the Iridium GO!, its a real game changer.
Q How much data will tracking use per month set to 1 hourly tracking.
A The amount of data for one position report is 200 bytes. The minimum charged billing increments for a connection is 5kb So for just tracking, 30 days on hourly tracking will use 3.6 MB. This can be changed in the settings to collect position reports every hour or 15 minutes, and send them each 4 hours for example. You can also use the DataHub to check for mail every hour, and send the tracking reports at the same time to efficiently use the 5kb minimum billing increment.
Q What is the difference between using GO! exec service and the slower Certus data plans? What are the expected Exec upload/download speeds?
A The Iridium GO! exec has a Certus 100 modem in it, this is the slowest Certus connection. Download speeds are up to 88 kbps, upload speeds are up to 22kbps.
Q If I purchase an annual data plan for the exec, what happens to unused data/minutes at the end of the year? What if I exceed my data usage for the year?
A The unused data does not roll over, unfortunately. You get alerts when you reach different percentages of your limit. If you go over, you are charged per MB. We are still waiting on the details of those numbers yet, it will likely be close to US $10 per MB.
Q What is the phase out plan for the regular GO! and the existing unlimited data plan?
A There will always be a place for the Iridium GO!. Because of the price point of the unlimited plan for the Iridium GO!, some people will always be happy to wait, and know how much it will cost them for the month. We don't see it being ended any time soon.
Q Can I get an extension for the outside antenna?
A We don't recommend extending beyond 5 meters, as this is the length specified by Iridium.
Q Can I send SOS and will it send my GPS position?
A Yes, there is a built-in GPS for the SOS function.
Q How long will a battery last in a life raft situation?
A It has 6 hours talk time and 20 hours standby
Q Without the data hub connected, is there any way to send a GPS position for the tracking page from the Iridium GO! exec except to manually enter and message/send a position read from another device?
A There is no other way.
Q I am interested in the Iridium GO! exec, but I need some way to control which apps use internet connection, so I can control how much data I use, can you explain how this can be done on a phone and a Windows pc?
A The Iridium GO! exec has its own built in firewalls to block background traffic. When you want to use an App like PredictWind to download a weather forecast, in the downloads section of the Offshore App, when you select "Download" it will tell the Iridium GO! exec to connect and just download the PredictWind info, blocking all other traffic for that session, then it disconnects. If you want to open a webpage, you can choose the web profile, and data will be limited to the browsers you have running. GO! exec aware apps set firewall rules that only allow them to use the internet. Users can create custom firewall profiles for apps that do not have link control built into them. The firewall rules can be defined either with the GO! exec App and/or using the DataHub. When connecting to the internet using the GO! exec App, users can select either predefined system profiles or user defined profiles. Only apps meeting the firewall rules defined by the profile can access the internet. The same is true when manually starting a session using the GO! exec user interface elements in the DataHub If using Quick Books or Quicken Apps for example, users would need to know what ports and web addresses to open, they must know the ports and hostnames to block everything but that App in a custom profile. This information is usually quite easy to find on the internet when setting up the system. Otherwise users would have to use the open all profile.
Features
Modern, compact, portable design with a color touchscreen

Up to 22 Kbps Transmit / Up to 88 Kbps Receive

Built-in secure Wi-Fi connectivity

Multi-user access for up to two voice calls or multiple data connections simultaneously

Built-in speakerphone & microphone functionality

Dual USB-C, ethernet & external antenna / GPS ports

Standard apps with open connection or app/web filtering

Easy setup & use with no pointing required; power on & connect just by raising the antenna

Operate from a fixed or mobile location with omni-directional connectivity

Quickly connect to the internet with a built-in connection manager for session controls & pre-configured filtering options to help manage airtime usage

Register for 24/7 SOS monitoring & support from 3rd party emergency response coordination center (IERCC)
Package
Iridium GO! exec™ Mobile Satellite Internet WI-FI Hotspot Includes:
Iridium GO! exec device
Protective Cover: This custom-built cover snaps on easily to the top of the device to protect it from direct sunlight and scratches to the touchscreen. It also snaps on to the bottom to protect from rough surfaces.
Documentation: Quick Start Guide, Product Safety and Regulatory Card and Important SOS Information Booklet
Accessories: AC wall charger with four international adapters, DC car charger and USB-C cable
Technical Specifications
Display
Modern, compact, portable design with color touchscreen
Dimensions
(L x W x H):
203 mm x 203 mm x 25 mm
7.9 x 7.9 x 0.98
Durability
Environmental
Operating Temperature Range: -20ºC to + 50ºC
Ingress Protection: IP65 (All Port Covers Closed)
Military-grade Ruggedness (MIL-STD-810H)"
Included
• Iridium GO! exec device
• Protective Cover: This custom-built cover snaps on easily to the top of the device to protect it from direct sunlight and scratches to the touchscreen. It also snaps on to the bottom to protect from rough surfaces.
• Documentation: Quick Start Guide, Product Safety and Regulatory Card and Important SOS Information Booklet
• Accessories: AC wall charger with four international adapters, DC car charger and USB-C cable
Battery
Battery Life, Talk/Data Time: Up to 6 hours Battery Life, Standby: Up to 24 hours
Data Network
Iridium Certus 100 (Voice & IP Data)
Up to 22 Kbps Transmit / Up to 88 Kbps Receive
Interfaces
Dual USB-C, ethernet & external antenna / GPS ports, WIFI