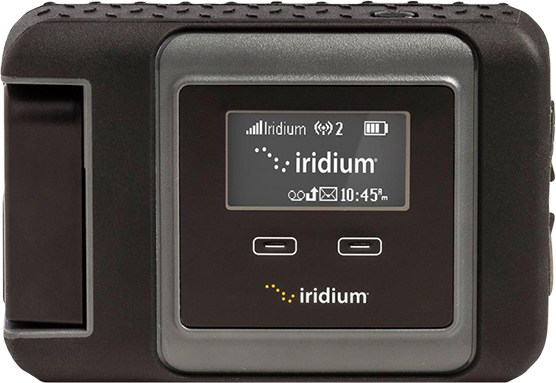 Iridium GO!
Iridium GO is a small but powerful satellite communication device allowing multiple users to connect and use voice, text messaging, map and weather data as well as SOS and GPS navigation. Popular among sailors for it's Predict Wind integration and low cost service plans.
Compact & Reliable Global Connectivity

Rugged Design
Iridium GO features a water resistant rugged design that can withstand tough weather conditions. Built quality that works flawlessly and lasts many years

Simple Connectivity
Simply power on the device and it will automatically connect to satellite. Iridium GO app features a simple user interface that is simple to use and easy to navigate.

Anywhere You GO!
Small and lightweight Iridium GO is portable and easy to carry with you anywhere you go. Get a spare battery and enjoy days of satellite service anywhere you GO!
Compare Iridium GO Service Plans
Choose from a selection of low cost monthly service plans customized to fit your budget. In the middle of the ocean, where it's unimaginable to get cellphone coverage, you can now enjoy complete global coverage and uninterrupted network connectivity.
Pay same rate voice calls and text messaging from anywhere in the world and call anyone, anytime. All iridium go plans use same data speed for weather files and email services.
For long trips we recommend choosing the unlimited plan for optimal data use and maximum return of your investment.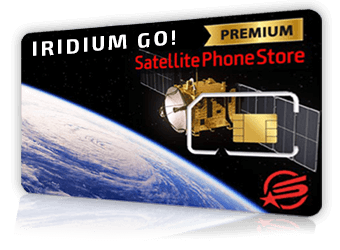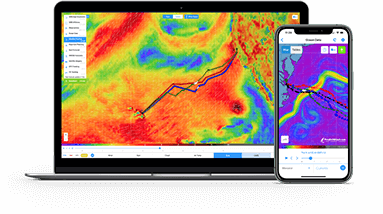 Predict Wind Offshore App
Iridium GO can help you sail and navigate easily with one of the best and most widely used apps for weather data called Predict Wind. No more worries and concerns for unfavorable weather. Predict Wind app uses the Iridium GO satellite link to download GRIB files and give you all the information you need to plan your voyage. Including best weather routes, wind, rain, swell, GMDSS text forecasts, satellite imagery and more. One more reason to go further and safer with Iridium GO.
Iridium GO Package Options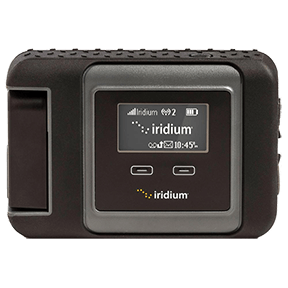 Iridium GO Standard Package
Get the low cost Iridium GO Satellite Hotspot, Battery, AC/DC Charger, USB cable and instruction manual.
$695.00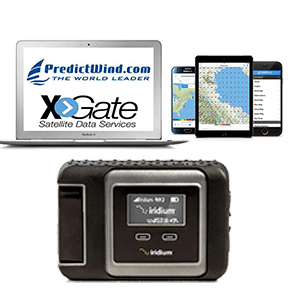 Iridium GO Marine Package
Includes the Iridium GO package with additional fixed installation kit, passive external antenna, antenna adapter and 30ft LMR400 cable.
$1,225.00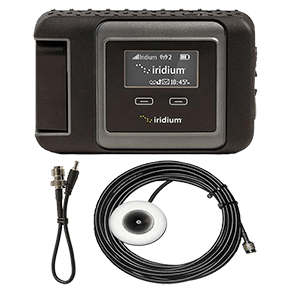 Iridium GO! Aviation Package
Includes the Iridium GO package with additional Glass Mount Suction Antenna, Wall Mount Bracket Kit and External Antenna Adapter
$1,350.00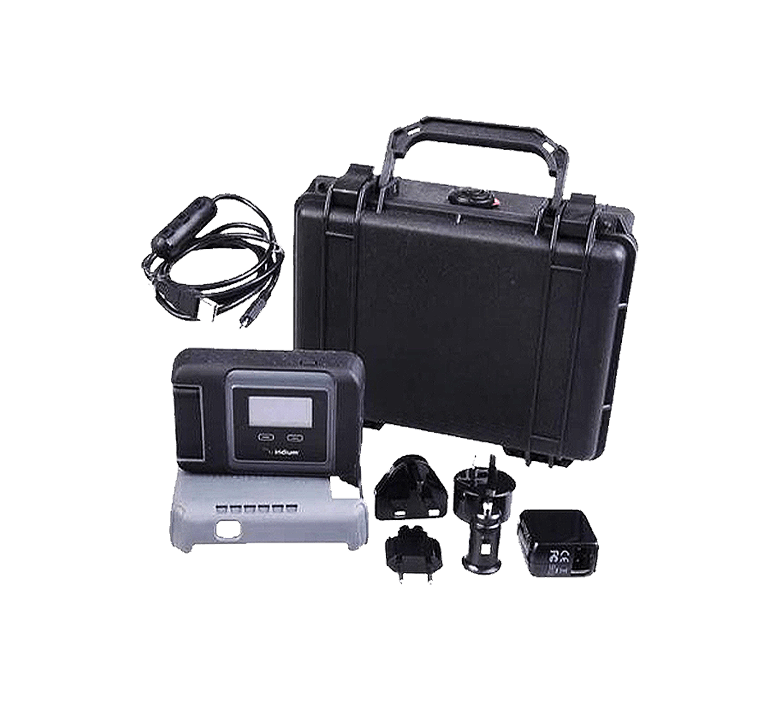 If you intend to use Iridium GO only 1 month of the year or less you can save more and rent Iridium GO only when you need it. We offer low cost Iridium GO rental options with budget friendly airtime bundles suitable for any application.

If it happens that you need more airtime, you may upgrade your bundle during your voyage. You can rent the entry level Iridium GO package or rent the complete marine bundle with passive antenna, cable and installation kit.
Iridium GO! Satellite Hotspot Rental Includes:
Iridium GO Satellite Hotspot
Battery, AC/DC Charger
Micro USB Cable
Instructions User Manual
Iridium has the newest and most dynamic satellite constellation on the market powered by Its NEXT generation satellites launched in early 2019.
A $50 activation fee applies to all new lines of service.
A 12 month service agreement is required for all Iridium plans.
An early termination fee of $250 will be applied to lines that do not fulfill their contract.
Unused minutes rollover for the entire life of the contract. *when additional rollover feature is added*
All unused minutes are forfeited upon cancellation of service.
Rollover minutes are relinquished when a plan is downgraded
Rollover minutes transfer to new service if the service plan is greater than or equal to the existing plan.
Calls to other satellite networks (i.e.; Inmarsat, Thuraya, Globalstar) are billed at $12.00 per minute.
If service is cancelled, the SIM card will be permanently disabled.
Calls are billed in 1 minute increments.
Incoming calls are FREE if dialed directly (please be advised that the individual calling will incur international calling rates).
Incoming SMS messages are FREE. Outgoing SMS messages will be debited at the rate of 1 minute per message.
Calls that are received via the 2 stage dialing or via the satellite phones USA phone number will be debited from the satellite phones minute plan.
Dialing directly to local phone numbers are available to many other countries at an additional cost. Please contact us for more details.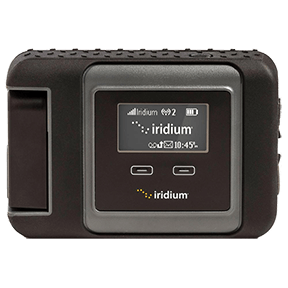 View Product
• Iridium GO! status bar
• Iridium GO! battery life
• Send quick GPS or check-in message
• Configure settings
• Initiate voice call
• Set-up Wi-Fi data call
• Activate Emergency SOS
• Post updates to social media
• Send and receive emails
• Retrieve emails from external accounts
• View websites pages
• Post updates to social media
• Access weather forecast
• Wide collection of Apps
• Compress and send photos
• Price:
$695.00
Frequently Asked Questions
Is SMS messaging through Iridium GO reliable?
Yes, both the Iridium GO! and Iridium GO! exec SMS messaging services are reliable. And since you will be typing on your smartphone keyboard it is much easier and faster than typing on traditional satellite phones.
Can I use my Samsung Galaxy Tablet to send email with Iridium GO?
Yes, you can use Iridium GO with almost any smartphone or tablet with WIFI and the ability to download apps from Google Play or Apple iTunes.
I am traveling to Africa, do I need a special sim for data and voice?
Iridium GO plans work everywhere in the world no matter where you are. Some countries limit or prohibit the use of satellite communication devices.
Can I buy a Prepaid plan instead of monthly subscription?
Yes, we have short term prepaid plans available. Although the unlimited monthly plan is the best and most popular for this device we do sell and support a small selection of low-cost prepaid options.
Can I browse the internet and use social media with Iridium GO?
No, the data rate is insufficient for browsing or social media. It is however sufficient enough for downloading weather data and sending/receiving emails.
Are any other accessories needed to use the Iridium GO?
Just an Adroid or iOS (Apple) smartphone or tablet device that can connect to wifi.
Can I use other apps with my Iridium GO device?
No, Iridium GO is designed to work only with designated Iridium GO apps such as the Iridium GO app, Mail and Web App.
Will Iridium Go work 200 miles offshore?
Yes, Iridium GO offers full global coverage so It will work anywhere in the ocean.
Can I receive incoming calls on Iridium Go?
Yes, as long as your Iridium GO is powered on and connected to satellite you can send or receive calls anytime.
Is the service billed by the second or by the minute, i.e. if I use 1min and 15 seconds will I be billed that exact amount of time or rounded up to 2?
Iridium GO! Prepaid service is decremented in 20 second increments. In your example of 1 minute and 15 seconds you would be decremented 1 minute and 20 seconds.
What is the contract length with the Iridium GO! data plans?
Monthly Airtime plans are offered on a 12 month contract. Prepaid plans have certain plan validity period with no contract.
What is the best plan for making voice calls?
We recommend the GO Unlimited plan which includes 150 minutes of Voice Calls for free and unlimited data use.
Is Iridium GO portable and what is the battery life?
Yes, Iridium GO is portable and light weight. The internal battery will give you 7 hours of talk time & 16 hours standby. The unit is ideal for taking to remote places inland or offshore.
Will the iridium go! work with imessage, wi-fi calling, and other native ios applications?
No, the Iridium GO voice and messaging will only work with the dedicated Iridium GO apps.
Can I change a Plan?
Yes you can change your plan anytime during the month. For a limited number of times you may upgrade or downgrade your plan. The monthly charge on the new plan will be prorated and paid immediately.
Why upgrade your existing Satellite Phone?
We will take your old satellite phone for trade in value and give you credit towards your new Iridium GO purchase.
Can I install the Iridium GO! myself?
Yes and it's very easy! This is one of the advantages of Iridium GO! over a Satellite Phone solution.
Is the external antenna necessary?
The Iridium GO device has an integrated antenna. However, for boat application it is recommended to go with the marine package that includes a passive antenna installation kit. This allows the Iridium GO device to stay below deck and remain protected from the weather.
What is the external antenna size, and how does it mount?
The external antenna mounts directly on rail 1"-14NF using a rail mount. The unit has a diameter 95 mm & height 188 mm & weighs 0.30 kg.
Can I use any App/Software with the Iridium GO?
Only Iridium GO! certified Apps can be used with Iridium GO! This includes the Iridium mail & web App, and the PredictWind Offshore App (Windows/Mac/iPad/iPhone).
What is the Iridium GO Data Speed?
The data speed is 2.4 Kbits/s. This is the same data speed as all other Iridium & Inmarsat Satellite phone services. At this data speed, the Iridium GO! is best suited for email and downloading weather data with the PredictWind Offshore App. The data speed is too slow for general web browsing.
How long does the Iridium GO! take to setup?
The physical installation is pretty simple and easy. Setting up the Iridium GO App, Iridium Mail & Web App and Offshore App will take a few days depending on your technical knowledge and abilities. It is a good idea to have the unit setup 1 month prior to departure so you can become familiar with the features of the Apps.
Can I get a US Local Satellite Phone Number?
You can add a local USA phone number to your Iridium service for an additional $10 per month. This can be useful for friends & family to dial a cheaper local number, but please be aware that incoming calls dialed to this local number will be billed to your satellite airtime account and it will burn minutes from your plan.