Oct 11, 2019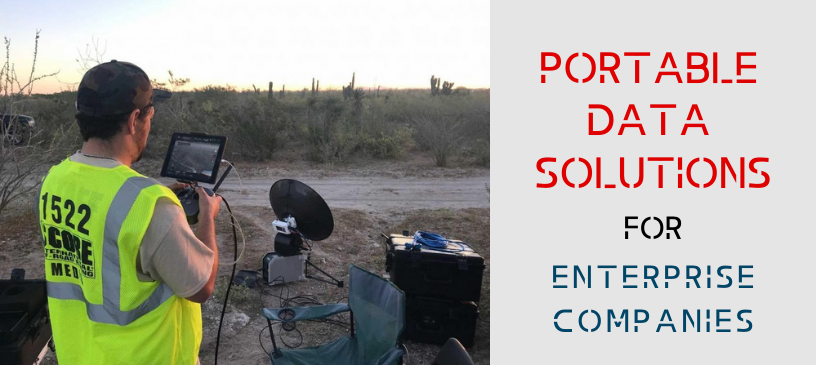 Enterprise projects that involve field work usually task logistic teams with a mile-long list of equipment and requirements. Among these is establishing a reliable data and internet channel in remote areas. For most logistic teams this is probably the hardest task ever. It's easy to bring water, food and a truck load of other supplies. But how do you establish a reliable internet connection, fast internet speed, WIFI bubble reaching everyone on site and a backup for all of this in the middle of a desert.
This is where Satellite Phone Store's network redundancy team comes at play. Our network solution experts are properly experienced and well knowledgeable to provide exactly the type of equipment you need for the project you are running.
For personal use we are providing enterprise customers with Explorer 510 and Explorer 710 units, which deliver a decent speed to run personal tasks on computer, send out emails, upload photos and stream video.
For large project and multi-user application we deploy a GX 5075 portable satellite internet system and the Kymeta flat panel portable internet system. The GX currently offers speeds of up to 8mbps download and 4mbps upload. Where as the Kymeta flat panel system offers speeds of 4mbps download and 1mbps upload. These are certainly not very high speeds, but these are the current limitations of satellite and these speeds do manage to provide a connection with speeds decent enough for successful multi-user application. Network congestion can occur if a significant amount of users attempt to use the connection all at the same time. But we have a solution for that as well, and we will usually deliver a secondary GX system that works parallel to the first one. This allows more speed and more users available to connect.
About the Global Xpress portable satellite system. The GX is a portable carry on system that is disassembled in 2 pelican cases and easy to transport in a plane anywhere in the world. The assembly and initial setup takes less than 10 minutes with additional 10 minutes of acquiring signal and establishing a connection. The GX has a global capability and it will work anywhere in the world with limitations on the North Pole and the South pole. The signal will reach up to Alaska on the North and Chile on the South. Afrika, Europe, Australia and most of Asia are covered.
We also provide maritime internet solutions for small personal and large enterprise application. Selection of equipment and speeds varies from 100kbsp to 20mbps. There are currently no limitations on speeds and network contingency we can achieve. You can preview and learn more about our maritime satellite internet and data solutions here.
There are many SP500 companies that are on our list of clients who utilize these solutions. We are confident in our expert team to always be able to troubleshoot any problems over the phone or directly on site if there is a request for an engineer to be providing support directly.
Call our enterprise experts for a free consultation call: 619-272-2218
More Satellite Resources