May 31, 2023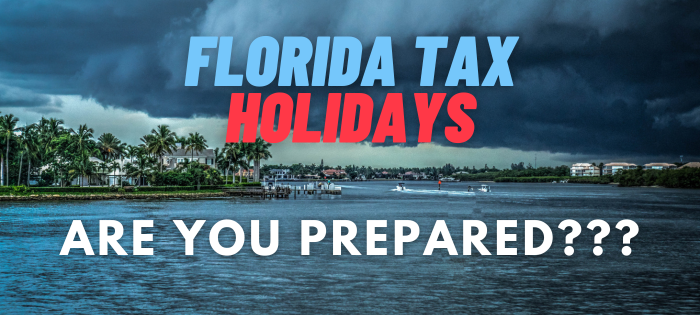 Florida is renowned for its sun-soaked beaches and vibrant nightlife, but as any long-term resident knows, it also faces its fair share of natural disasters – specifically, hurricanes. With the hurricane season looming, the state is taking definitive action to ensure its residents are well-prepared. Enter House Bill 7063, offering expanded Disaster Preparedness Sales Tax Holidays in 2023.
This initiative is a game-changer. For the first time in the state's history, there will be two 14-day periods of sales tax exemptions on key items, helping you prepare for hurricane season without breaking the bank. Here's what you need to know.
A Double Dose of Tax-Free Shopping!
Florida residents can mark their calendars for these two tax-free periods: May 27 to June 9 and August 26 to September 8. These dates have been strategically chosen around the hurricane season, which typically lasts from June through November, with a peak between August and October.
What's Included in the Tax Holidays?
House Bill 7063 covers a wide range of items, offering residents a chance to stock up on crucial supplies. Here's the complete list of items exempt from sales tax during the two 14-day periods:
Self-Powered Lights: A must-have during power outages, any light source that's self-powered and costs $40 or less is exempt.
Radios: Portable self-powered radios, including two-way and weather-band radios, priced at $50 or less, are included.
Tarpaulins or Waterproof Sheeting: Tarpaulins or any flexible waterproof sheeting priced at $100 or less are also exempt.
Ground Anchor Systems or Tie-Down Kits: These can be lifesavers in a hurricane, and any kit costing $100 or less is exempt.
Fuel Tanks: Gas or diesel fuel tanks with a sales price of $50 or less.
Batteries: Packages of AA-cell, AAA-cell, C-cell, D-cell, 6-volt, or 9-volt batteries, excluding automobile and boat batteries, with a sales price of $50 or less.
Food Storage Coolers: Nonelectric food storage coolers with a sales price of $60 or less.
Portable Generators: A portable generator can make life during a power outage much more bearable. If it's priced at $3,000 or less, it's exempt.
Reusable Ice: Handy for keeping food cold when the power's out, reusable ice with a sales price of $20 or less is included.
Portable Power Banks: These devices, with a sales price of $60 or less, can keep your phone and other devices charged during power outages.
Smoke Detectors or Smoke Alarms: These safety essentials, with a sales price of $70 or less, are exempt.
Fire Extinguishers: Fire extinguishers with a sales price of $70 or less.
Carbon Monoxide Detectors: These lifesaving devices, with a sales price of $70 or less, are also exempt.
With such a comprehensive list, Floridians can adequately equip themselves to face a hurricane.
Why This Initiative Is Crucial
With hurricanes posing a yearly threat, preparation is key. The expanded Disaster Preparedness Sales Tax Holidays is a practical step towards enhancing Floridians' safety during hurricane season. This initiative will encourage more residents to invest in disaster preparedness items, ultimately protecting themselves, their families, and their homes.
So, take full advantage of these tax holidays. Being prepared for a hurricane is not just a matter of surviving the storm – it's about doing so with minimal disruption and risk to life.
Prepare Ahead, Stay Safe
The Florida Disaster Preparedness Sales Tax Holidays are not merely an opportunity for savings; they're a reminder of the importance of preparation. If you've been putting off purchasing any of the items on this list, now is the time to act.
We can't stress enough the importance of a Portable Generator. Especially look for those, like EcoFlow's range, which are efficient and environmentally friendly. Generators can provide light, power communications, and help preserve food, making life during a power outage significantly more bearable.
A Portable Self-Powered Radio can provide you with vital weather updates when other communication networks may be compromised. And don't overlook the importance of a good supply of Batteries – you'll need them for your lights and radio.
Ground Anchor Systems or Tie-Down Kits can provide crucial stability for your home or outbuildings in high winds. A reliable Food Storage Cooler can also help you keep perishable food items safe and usable during extended power outages.
Smoke Detectors, Fire Extinguishers, and Carbon Monoxide Detectors are all essential safety items. These should be in every home, and the tax holidays are the perfect time to check and replace any that are outdated or not working properly.
Don't Forget Communications
In the era of ubiquitous smartphones, it's easy to forget that they're only as good as the networks they connect to – networks that can be easily disrupted during severe weather events. That's where Satellite Phones come into play. They can provide a critical lifeline during a hurricane, enabling you to stay in touch with loved ones and receive vital updates on the storm.
With this in mind, stores like Satellite Phone Store are participating in the tax holidays, making it the perfect time to invest in a satellite phone if you don't have one already.
In Conclusion
The expanded Disaster Preparedness Sales Tax Holidays in 2023 are a proactive step from the state of Florida, ensuring its residents have every opportunity to prepare for the upcoming hurricane season. Don't let these tax-free periods go by unutilized. Equip your home with the necessary supplies and stay prepared.
The hurricane season may be inevitable, but with proper preparation, you can weather the storm.
Stay safe, Florida!
More Satellite Resources