Cobham Explorer 710 BGAN Terminal
$9,295.00
Save $1,000.00 (11%)
Features:
• Ultra-Portable BGAN
• Delivers an expected streaming rate of about 650 kbps
• Streaming capabilities that make it ideal for live video broadcasting from any location on the globe
• Built-in SIP server
• Send up to 492kbps over a shared channel
Best Plan Details
BGAN Flex Plus Plan
---
The new 2020 Inmarsat BGAN Flex Plus plan allows users to stay on a low monthly plan that includes 100MBs and then just pay for higher tiers in months that more data usage is needed.
0 To 100 MB $139.99
To 250 MB $475.00
To 500 MB $700.00
To 1 GB $1139.00
To 5 GB $2150.00
To 10 GB $2799.00
To 30 GB $4150.00
Description
How to use the Explorer 710 BGAN
BGAN Key features & Coverage Map
The world's first truly mobile broadband solution, BGAN uses small, lightweight terminals to deliver a powerful array of services capable of processing bandwidth-intense applications and others such as: Inmarsat Internet and Intranet access, voice, Voice over IP (VoIP), Fax over IP (FoIP), live media streaming, video conferencing, video store-and-forward, e-mail and large file transfer.

Whether connecting for personal use or connecting a network of computers, you may choose from a range of easy to operate BGAN terminals which provide performance options to suit different operational needs.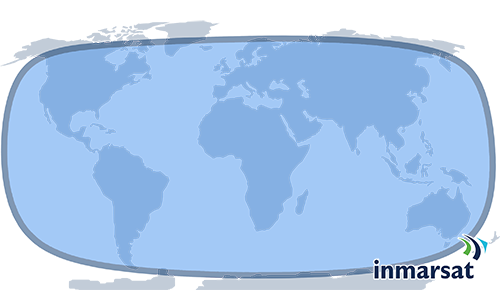 Global WiFi Hotspot
The Cobham Explorer 710 BGAN delivers an expected streaming rate of about 650kbps with its full channel option for higher quality video newsgathering. The Explorer 710 is the smallest class 1 BGAN terminal, and the first to use the new BGAN HDR (Higher Data Rates) service platform from Inmarsat.

The Explorer 710 has streaming capabilities that make it ideal for live video broadcasting from any location on the globe.

At the forefront of a new era of high speed ultra-portable satellite streaming, EXPLORER 710 is a sophisticated communication tool for broadcasting and other IP based industry applications.
Inmarsat BGAN Data Plans
Inmarsat BGAN solutions offer reliable Internet access in distant and remote regions with no network coverage. When you travel far out of coverage, satellites allows you to browse, send emails, run On-line applications, on your Laptop, Tablet and Smartphone devices. BGAN creates a WIFI Hotspot that you can connect up to 11 devices simultaneously.
As a standard WiFi hotspot, use the 710 as you would any Internet connection with your laptop or smart device. It\'s able to connect with up to 11 devices simultaneously without any configuration changes. It has an amazing wireless range of 100 meters (300 feet), so the terminal can be outside, while someone can be connected wirelessly inside. And with global coverage, no matter where you travel, you will be able to get online.
EXPLORER 710 provides streaming rates over 650 kbps out of the box, when using new high data rate streaming, to be introduced by Inmarsat in Q3 2013. With EXPLORER 710, you can leverage the fastest on-demand video streaming via satellite with guaranteed QoS to enhance the quality of live broadcasts and remote communication.
BGAN Internet/Link Geo Works in These Regions/Countries
Sub-Saharan region - Angola, Benin, Botswana, Burkina Faso, Burundi, Cameroon, Cape Verde, Central African Republic, Chad, Comoros, Congo (Democratic Republic), Congo (Brazzaville), Côte d'Ivoire, Djibouti, Equatorial Guinea, Eritrea, Ethiopia, French Southern and Antarctic Lands, Gabon, The Gambia, Ghana, Guinea, Guinea-Bissau, Kenya, Lesotho, Liberia, Madagascar, Malawi, Mali, Mauritania, Mauritius, Mayotte, Mozambique, Namibia, Niger, Nigeria, Réunion, Rwanda, São Tomé and Príncipe, Senegal, Seychelles, Sierra Leone, South Africa, South Sudan, St. Helena island, Swaziland (Eswatini), Tanzania, Togo, Uganda, Zambia, Zimbabwe
CIS Countries - Armenia, Azerbaijan, Belarus, Georgia, Kazakhstan, Kyrgyzstan, Moldova, Mongolia, Russian Federation, Tajikistan, Turkmenistan, Ukraine and Uzbekistan
South Pacific Islands - Micronesia, Polynesia, Melanesia
Middle East and North Africa (MENA) - Algeria, Bahrain, Egypt, Iraq, Israel, Jordan, Kuwait, Lebanon, Libya, Morocco, Oman, Palestine, Qatar, Saudi Arabia, Tunisia, Turkey, United Arab Emirate and Yemen
Canada, Antarctica
Australia and New Zealand
Latin American region - South American Region including Mexico but excluding Cuba
How Many Megabytes Do I Need?
| | | | | | | | | |
| --- | --- | --- | --- | --- | --- | --- | --- | --- |
| | 20 MB | 100 MB | 250 MB | 500 MB | 1,000 MB | 5,000 MB | 10,000 MB | 30,000 MB |
| E-mails | 300 E-mails | 1,000 E-mails | 2,500 E-mails | 5,000 E-mails | 10,000 E-mails | 50,000 E-mails | 100,000 E-mails | 300,000 E-mails |
| Browse web | 4 Pages | 20 Pages | 50 Pages | 100 Pages | 200 Pages | 1,000 Pages | 2,000 Pages | 6,000 Pages |
| Social Media | 4 Posts | 20 Posts | 50 Posts | 100 Posts | 200 Posts | 1,000 Posts | 2,000 Posts | 6,000 Posts |
| Skype Videos | 7 Minutes | 35 Minutes | 83 Minutes | 166 Minutes | 350 Minutes | 1,750 Minutes | 3,500 Minutes | 10,500 Minutes |
| Youtube 450p | 4 Minutes | 20 Minutes | 50 Minutes | 100 Minutes | 3,5 Hours | 17,5 Hours | 35 Hours | 105 Hours |
| HD Images | 6 Photos | 33 Photos | 83 Photos | 166 Photos | 350 Photos | 1,750 Photos | 3,500 Photos | 10,500 Photos |
| Wi-fi Video | 5 Minutes | 25 Minutes | 62 Minutes | 125 Minutes | 250 Minutes | 1,250 Minutes | 2,500 Minutes | 7,500 Minutes |
* Values mentioned are approximate based on the average user. It can be different for everyone because your emails can contain attachments = will increase the size. If a website is not optimized, it can spend more MB. Youtube Video quality is also very important, it can spend your megabytes.
Explorer 710 Top Features
Continuing the tradition of technology leadership started when the EXPLORER team introduced its first BGAN terminal in 2005, EXPLORER 710 introduces several advanced new features. Uniquely, it has the ability to bond the signals from multiple EXPLORER 710 terminals via Ethernet to achieve IP streaming rates of 1 Mbps or even higher - closer to standard definition broadcast quality.
EXPLORER 710 also introduces Smart Phone apps to the world of BGAN connectivity, enabling users to wirelessly connect their own devices for voice calling and connectivity. It's light, compact, tough and incredibly reliable. It opens more possibilities for connecting devices, offering more flexibility. It's ultra-portable, so you can be set-up within minutes of arriving on scene.
Full duplex, single or multi-user, standard data up to 650 kbps
Support for streaming data at 32, 64, 128, 176, 256 kbps, HDR (asymmetric or symmetric) and BGAN X-Stream
Standard LAN w. PoE, WLAN, ISDN and Phone ports and USB Host interface
Detachable antenna with integrated transceiver stand and transceiver-to-antenna range up to 100 m/328 ft.
Built-in DHCP/NAT wireless router
Solar panel direct interface, Support for battery hot swap
Built-in web interface allowing you to manage your calls and customize the terminal to your specific needs, using a smartphone, computer or tablet.
Support for the EXPLORER Connect smartphone app allowing you to use your phone as asatellite phone and to access the settings of the terminal.
Multilingual user interface (English, French, German, Russian, Spanish, Chinese, Japanese)
Advanced network management, 100-240 VAC power adapter, 10-32 VDC input
Point-to-Point Protocol over Ethernet (PPPoE)
Built-in PBX and SIP server managing voice communication
Remote management and remote access
CE, FCC, GMPCS and IC certified
Features
Support for BGAN bonding
Built-in SIP server
Embedded webserver
Advanced Router with admin control
Wireless Access Point
Remote Activation and Remote Management
Battery hot-swap and Intelligent Power Management
Solar Panel powering
Package
Cobham Explorer 710 BGAN Terminal Includes:
Explorer 710 BGAN Terminal (comes in 2 parts, transceiver and antenna)
Rechargeable Li-Ion Battery
AC/DC Recharger with Universal (International) Power Adapters.
Cable Kit
BGAN LaunchPad CD & Quick Start Guide
Technical Specifications
Dimensions
332 / 279 / 54 mm
13.07 / 10.98 / 2.13 inches
Weight
3.2 kg / 7 lbs (incl. battery)
Antenna :1.7 kg (tbc)
Transceiver : 1.5 kg (tbc)
Durability
Powered from external DC -25°C to +55°C (-4°F to +131°F)
Powered from battery DC -25°C to +55°C (-4°F to +131°F)
Charging temp 0°C to +55°C (+32°F to +131°F)
95% non-condensing at +40°C (+104°F)
Data Network
Standard IP Background class of service
Send Up to 240kbps over a shared channel
Receive Up to 384kbps over a shared channel
Send 32, 64kbps
Receive 32, 64kbps
ISDN data N/A SMS 160 characters Voice capabilities
UDI 64 kbps
RDI 56 kbps
Interfaces
1 x Analogue RJ-11 phone/fax interfaces
2 x LAN interface - Connector type : RJ-45; Power over Ethernet : PoE Cl. 2 on one RJ-45 interface; Data rate : 10/100 Mbps; Max. cable length : 100m / 328ft (Cat5 UTP)
1 x USB host interface - Version : 2.0 (host); Connector type : A plug; Charging : Up to 2A
1 x ISDN interface - Connector type : RJ-45; Max. units per port : 8, max. total power supplied 1W
1 x Transceiver / Antenna interface - Connector type : TNC-TNC; Max. cable length : 100m / 328ft, single coax; Max. cable loss : 1.4 / 20dB @ 1.5GHz
1 x BGAN SIM - Card slots
WLAN Access Point - Standard : IEEE 802.11 b/g; Frequencies : 2400.0-2485.0 MHz; Max. coverage outdoor : 100m / 328ft