Cobham Explorer 510 BGAN Terminal
$3,595.00
Save $300.00 (8%)
Features:
• Light and portable
• Internet Speed up to 464Kbps
• Extreme weather tolerance
• Connect up to 11 devices
• Intuitive user interface
• Smart device connectivity

Best Plan Details

BGAN Flex Plus Plan

---

The new 2020 Inmarsat BGAN Flex Plus plan allows users to stay on a low monthly plan that includes 100MBs and then just pay for higher tiers in months that more data usage is needed.

0 To 100 MB $139.99
To 250 MB $475.00
To 500 MB $700.00
To 1 GB $1139.00
To 5 GB $2150.00
To 10 GB $2799.00
To 30 GB $4150.00
Description
How to use the Explorer 510 BGAN
BGAN Key features & Coverage Map
The world's first truly mobile broadband solution, BGAN uses small, lightweight terminals to deliver a powerful array of services capable of processing bandwidth-intense applications and others such as: Inmarsat Internet and Intranet access, voice, Voice over IP (VoIP), Fax over IP (FoIP), live media streaming, video conferencing, video store-and-forward, e-mail and large file transfer.

Whether connecting for personal use or connecting a network of computers, you may choose from a range of easy to operate BGAN terminals which provide performance options to suit different operational needs.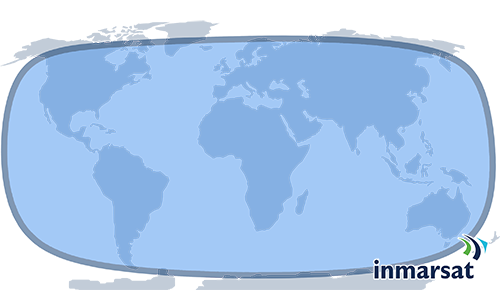 Global WiFi Hotspot
The EXPLORER 510 satellite terminal is a global WiFi hotspot with Internet speeds of up to 464 Kbps to any in-range wireless device such as laptops, tablets and smartphones. What makes the 510 different from other BGAN terminals is it includes smartphone integration.

The Explorer Control App gives total control over the 510, such as displaying signal strength, overall usage (in Megabytes), and allowing you to send or receive texts (including using your iPhone iMessage or other texting program).

It also turns your smartphone into a satellite phone to place or receive phone calls from anyone in the world. The 510 is the most portable BGAN on the market and surprisingly one of the least expensive. It is ideal for all applications in remote or urban locations that require Internet and phone anywhere.
Inmarsat BGAN Data Plans
Inmarsat BGAN solutions offer reliable Internet access in distant and remote regions with no network coverage. When you travel far out of coverage, satellites allows you to browse, send emails, run On-line applications, on your Laptop, Tablet and Smartphone devices. BGAN creates a WIFI Hotspot that you can connect up to 11 devices simultaneously.
As a standard WiFi hotspot, use the 510 as you would any Internet connection with your laptop or smart device. It\'s able to connect with up to 11 devices simultaneously without any configuration changes. It has an amazing wireless range of 100 meters (300 feet), so the terminal can be outside, while someone can be connected wirelessly inside. And with global coverage, no matter where you travel, you will be able to get online.
EXPLORER 510 is easy to set-up and to operate. The user interface is intuitive and can be accessed from your PC or any kind of smart device. With the EXPLORER Connect App you can use your smart device to make calls or easily access the internet even in areas with no terrestrial or cellular coverage. The EXPLORER Connect App with a SIP softphone will be available on Android and IOS.
BGAN Internet/Link Geo Works in These Regions/Countries
Sub-Saharan region - Angola, Benin, Botswana, Burkina Faso, Burundi, Cameroon, Cape Verde, Central African Republic, Chad, Comoros, Congo (Democratic Republic), Congo (Brazzaville), Côte d'Ivoire, Djibouti, Equatorial Guinea, Eritrea, Ethiopia, French Southern and Antarctic Lands, Gabon, The Gambia, Ghana, Guinea, Guinea-Bissau, Kenya, Lesotho, Liberia, Madagascar, Malawi, Mali, Mauritania, Mauritius, Mayotte, Mozambique, Namibia, Niger, Nigeria, Réunion, Rwanda, São Tomé and Príncipe, Senegal, Seychelles, Sierra Leone, South Africa, South Sudan, St. Helena island, Swaziland (Eswatini), Tanzania, Togo, Uganda, Zambia, Zimbabwe
CIS Countries - Armenia, Azerbaijan, Belarus, Georgia, Kazakhstan, Kyrgyzstan, Moldova, Mongolia, Russian Federation, Tajikistan, Turkmenistan, Ukraine and Uzbekistan
South Pacific Islands - Micronesia, Polynesia, Melanesia
Middle East and North Africa (MENA) - Algeria, Bahrain, Egypt, Iraq, Israel, Jordan, Kuwait, Lebanon, Libya, Morocco, Oman, Palestine, Qatar, Saudi Arabia, Tunisia, Turkey, United Arab Emirate and Yemen
Canada, Antarctica
Australia and New Zealand
Latin American region - South American Region including Mexico but excluding Cuba
How Many Megabytes Do I Need?
| | | | | | | | | |
| --- | --- | --- | --- | --- | --- | --- | --- | --- |
| | 20 MB | 100 MB | 250 MB | 500 MB | 1,000 MB | 5,000 MB | 10,000 MB | 30,000 MB |
| E-mails | 300 E-mails | 1,000 E-mails | 2,500 E-mails | 5,000 E-mails | 10,000 E-mails | 50,000 E-mails | 100,000 E-mails | 300,000 E-mails |
| Browse web | 4 Pages | 20 Pages | 50 Pages | 100 Pages | 200 Pages | 1,000 Pages | 2,000 Pages | 6,000 Pages |
| Social Media | 4 Posts | 20 Posts | 50 Posts | 100 Posts | 200 Posts | 1,000 Posts | 2,000 Posts | 6,000 Posts |
| Skype Videos | 7 Minutes | 35 Minutes | 83 Minutes | 166 Minutes | 350 Minutes | 1,750 Minutes | 3,500 Minutes | 10,500 Minutes |
| Youtube 450p | 4 Minutes | 20 Minutes | 50 Minutes | 100 Minutes | 3,5 Hours | 17,5 Hours | 35 Hours | 105 Hours |
| HD Images | 6 Photos | 33 Photos | 83 Photos | 166 Photos | 350 Photos | 1,750 Photos | 3,500 Photos | 10,500 Photos |
| Wi-fi Video | 5 Minutes | 25 Minutes | 62 Minutes | 125 Minutes | 250 Minutes | 1,250 Minutes | 2,500 Minutes | 7,500 Minutes |
* Values mentioned are approximate based on the average user. It can be different for everyone because your emails can contain attachments = will increase the size. If a website is not optimized, it can spend more MB. Youtube Video quality is also very important, it can spend your megabytes.
Explorer 510 Top Features
The durable magnesium casing and a dust and water resistant design makes the EXPLORER 510 the perfect choice when working off the beaten track, but still dependant on a reliable connection.
One-button Auto-connect to the Internet (after pointing). Easy to use by anyone.
Operates with all BGAN Internet service plans, Monthly or prepaid, or streaming.
High-speed Internet up to 464 Kbps down, 448 Kbps upload.
The most portable BGAN terminal 7.8" x 7.8" x 1.6" inches (202 / 202 / 51.8 mm). Very lightweight - 3.1 lbs (1.4 kg).
330 feet WiFi range (100 meters). Excellent for working indoors, or at a distance.
Connects with up to 11 devices (laptops, smartphone, tablets) simultaneously.
CE, FCC, GMPCS and IC certified.
Can be on the phone and Internet at the same time.
Web interface for connectivity options, usage logs, call logs, many hidden features!
Operates in very cold or very hot weather at -25°C to +55°C / -13°F to +131°F.
Use your iPhone or Android phone to make/receive calls over BGAN (using a new satellite phone #).
SMS texting from your smart device including iMessage on the iPhone.
USB port for Ethernet (with included adapter), or recharging port for other devices (1 amp).
2 year standard warranty with 3 and 5 year extended warranties available.
Package
Cobham Explorer 510 BGAN Terminal Includes:
US plug
USB to Ethernet adapter
One European plug. ** No other international adapters.
Technical Specifications
Dimensions
202 / 202 / 51.8 mm (7.8 / 7.8 / 1.6 inches)
Durability
Robustness : 0.5 m/1.64 ft drop on concrete (operational, 95% survival)
Water & Dust : IP-66 Compiant (TBC)
Data Network
Standard IP: Up to 464 kbps
Streaming IP: 32, 64, 128 kbps
Interfaces
WLAN Access Point
Standard IEEE 802.11 b/g/n
1 x USB host interface
Version: 2.0 (host)
Charging: Up to 1A
1 x BGAN SIM-Card slot