Mobile Satellite Internet Solutions
Satellite WIFI Hotspots
Satellite Phone Store offers a variety of both consumer and professional-grade portable satellite internet solutions. Compare products that can help you get satellite WIFI internet for your laptop, smartphone & tablet. The small portable satellite terminals we feature offer speeds between 100kbps to 700kbps. Although considered slow compared to 4G and 5G internet, these are still sufficient for remote internet operations, email, file sharing, online updates and internet data applications. For most demanding customers, we offer solutions with speeds up to 100mbps.
Satellite internet on the go - Available options
Business and personal use
These portable satellite internet solutions are small and light weight which makes them easier to carry, deploy and use. The user interface is simple and intuitive so anyone with no experience can easily learn how use them right out of the box.
Commercial and government solutions
These solutions are generally developed for industrial application, business activity and first response teams. However they are available and applicable to the general public as well. They offer higher speeds and unlimited data but they are also large and heavy so they require special transport logistics.
SATCUBE KU-Band Terminal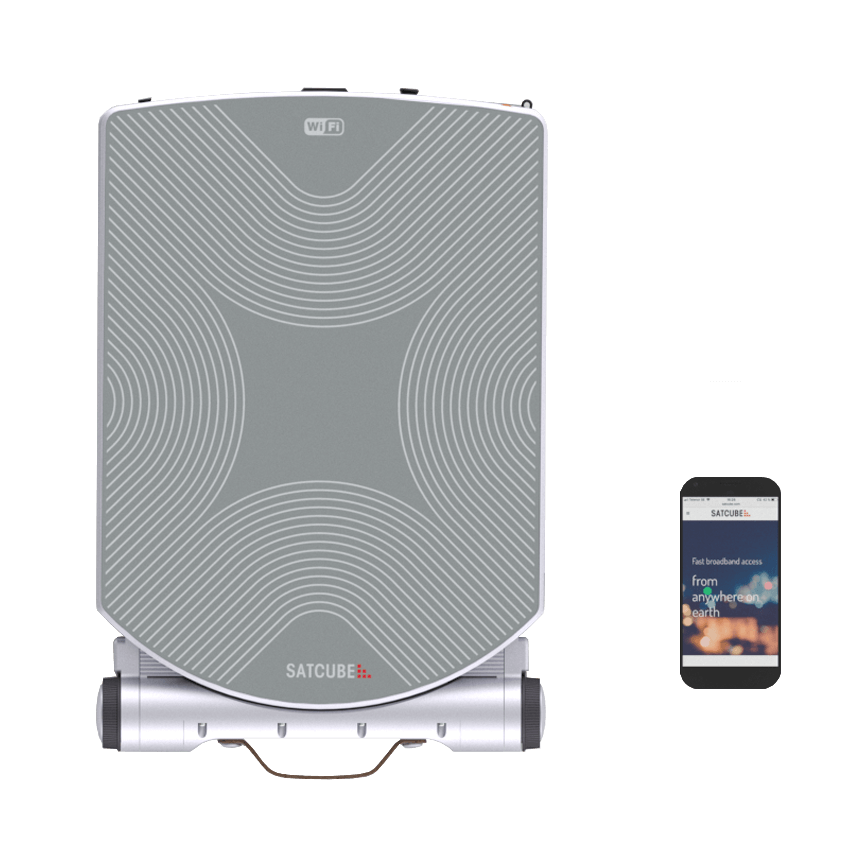 Why Choose SATCUBE?
Fast, easy and convenient, Satcube is a portable satellite terminal that provides broadband connectivity almost anywhere on earth with speeds of up to 20 Mbps. If you are skilled enough to use a cellphone, you can easily operate the Satcube Ku-band terminal.

FAST & MOBILE Weight of only 17 lbs (8 kg) and it takes Less than 1 minute to deploy and connect.

HIGH SPEED INTERNET With proven data rate of up to 20 Mbps (Up & Down) on High Throughput Satellites (HTS).

WIFI HOTSPOT Inbuilt WIFI Hotspot as an alternative to wired LAN connection.

PERFECT SIZE All-in-one compact terminal the size of a large laptop
VSAT Mobile Internet VAN
VSAT Mobile Satellite Internet and communications VAN
High speed satellite internet, voice and TV on the go!

Satellite internet connection is established within minutes after antenna deployment

Simple as powering the inverter and then powering the antenna unit

Affordable, easy to setup, portable or mobile backup solution








Frequently Asked Questions
What is the network coverage for these satellite Internet terminals?
These solutions work almost anywhere on earth up to 60 degrees North and South latitude. Past 60 degrees North and South there will be no clear view of the satellites sitting above the equator and there will be significant difficulties to establish an Internet connection. However new Iridium Certus land systems offer connectivity past the 60 degree marker.
Will these work in mountains or canyons?
The general rule is that the satellite terminal needs a clear view of the horizon facing the equator for a connection to be successful. Canyons usually obstruct the view towards the equator and this will result in unsuccessful connection.
What type of Internet activity can I do with these terminals?
You may use them for light browsing, data applications, email, live streaming or any other Internet activity. Internet speed depends on the terminal type and the data plan purchased.
Can I combine 2 terminals for higher speeds?
Yes you may combine 2 or more terminals to achieve higher data speeds and allow more users to connect and utilize the network.
Can I also use these terminals for voice and text messaging?
Yes these terminals come with apps you install on your smart devices that allow voice calls and text messaging as well. You also may use voice over IP through Whatsapp, Viber and similar applications.
Which terminal is best for live streaming?
Do you offer support for these solutions?
Yes, we have experts that are available to assist you over the phone or in person. Our support team is well knowledgeable and experienced with this technology. We also offer onsite training as well as help videos with instructions how to deploy and use these devices.
How fast can these terminals be delivered?
We have a full inventory of all portable satellite Internet terminals ready to be activated and shipped. Shipping time depends on the location but we can ship as fast as next day withing USA or couple of business days to deliver internationally.
Do you support events?
Yes, we support both small and large events with a team of satellite Internet experts and mobile Internet units offering higher contingency and data speeds. Check out our satellite van and satellite equipped truck to learn more about our mobile Internet units for events.
What is your international shipping policy?
We can ship our technology almost anywhere in the world. Our logistics team can organize fast and efficient delivery to South America, Europe, Asia, Africa and Australia. Sometimes you might expect delays with customs in certain countries but we can certainly organize a timely delivery.
Do you offer special pricing for Non Government Organizations?
Please contact us and request help from one of our enterprise Internet agents to get special pricing offers and discounted plans.
Can I get Internet on a satellite phone?
Satellite phones do not provide sufficient data connection to use Internet services on your device. For Internet use we recommend satellite Internet devices like BGAN explorer 510 or IsatHub Isavi.
Can portable satellite Internet terminals work indoors?
Satellite Internet terminals need a clear line of the sky out in the open to work. They should be shielded and protected from bad weather conditions. However most terminals create a WIFI network you can connect to and work indoors.
Is my data secure using a satellite Internet terminal?
Yes, data is encrypted and satellite Internet connections are secure.